Overcoming the Challenges of Managing Third-Party Compliance With Data Protection Laws
Cyber criminals are getting ever smarter at hacking into your IT system and stealing sensitive data. As data breaches increase and online fraud grows, so does the importance of complying with local, national, and international regulations on data security and privacy.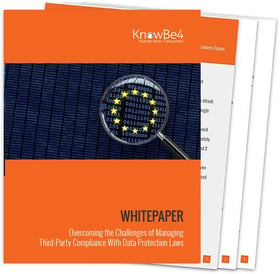 Every organization, whether you are a for-profit business, non-profit association or government agency, must ensure that its data is handled according to the law—both internally and when the data is shared with third‐party providers.
Ensuring the compliance of dozens, or even hundreds, of third‐party providers is a daunting task for any organization. Read this whitepaper now to learn how you can overcome the challenges of managing third-party compliance.
Download this research paper to find out!