You've heard that vendor dependencies are ripe for malicious abuse and you have read the stories where vendors were used to exploit and infiltrate their customers. Now, you've been put in charge of ensuring your vendors, third parties, contractors, and supply chains are at least as secure as you are. Welcome to Vendor Risk Management (VRM)!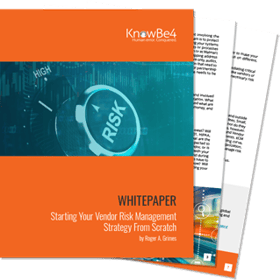 So where do you start? This whitepaper will walk you step-by-step through each of the components you need to consider when designing (or re-designing) your program.

You'll learn:
Why you need Executive Management support


What to consider when defining your VRM program strategy


How to design, implement, and maintain your VRM process


Tips for communicating your VRM program internally and to your vendors
Find out how to start removing unnecessary risk today!