A risk assessment program is about identifying threats to assets and the likelihood of the threats occurring in a given time period. You need to estimate the potential damage if the threat is exploited and implement appropriate controls to offset the biggest and most likely risks.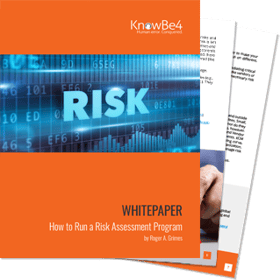 But you can't protect what you don't know about. Running a risk assessment program starts with your own inventory of assets. Then you need a phased approach to help you keep track of the various threats, calculated risks, implemented controls, and accepted risks - on an ongoing basis.
In this paper, you'll learn:
The five phases of running a risk assessment program

What the best risk management strategies focus on

What to consider when calculating the likelihood of a risk or threat

How to evaluate and update mitigation controls
Find out how to start removing unnecessary risk today!