You have challenging
compliance requirements

, not enough time to get

audits

done, and keeping up with

risk assessments

is a continuous problem.

Big, complex GRC platforms are expensive, take forever to deploy, and need two people with wrenches to keep them going. Meanwhile, your compliance, risk, and audit projects are piling up because of the lack of resources. Your organization does not need overly complex workflows, but somehow GRC vendors think "complex is good" (and expensive).

If you and your team are faced with:
Challenging compliance requirements
Not enough time to get audits done
Keeping up with risk assessments
Vetting and managing vendors to mitigate third-party risk
Lack of resources
No easy-to-use tools
See How You Can Get Audits Done in Half the Time at Half the Cost with KCM GRC
See how the KCM GRC platform can save you the maximum amount of time getting GRC done.
When your next audit comes up, are you thinking: "UGH, is it that time again?" It does not have to be that way!
With KnowBe4's KCM you can manage your compliance and risk projects and vet and monitor your third-party vendors faster than ever. KCM is a SaaS-based GRC platform that helps you effectively and efficiently manage risk and compliance within your organization and across your third-party security vendors, while gaining insight into gaps within your security program.
In half the time and half the cost, with KCM GRC you can efficiently manage compliance and risk initiatives, vet and manage third-party risk, and understand at a glance what items need to be addressed.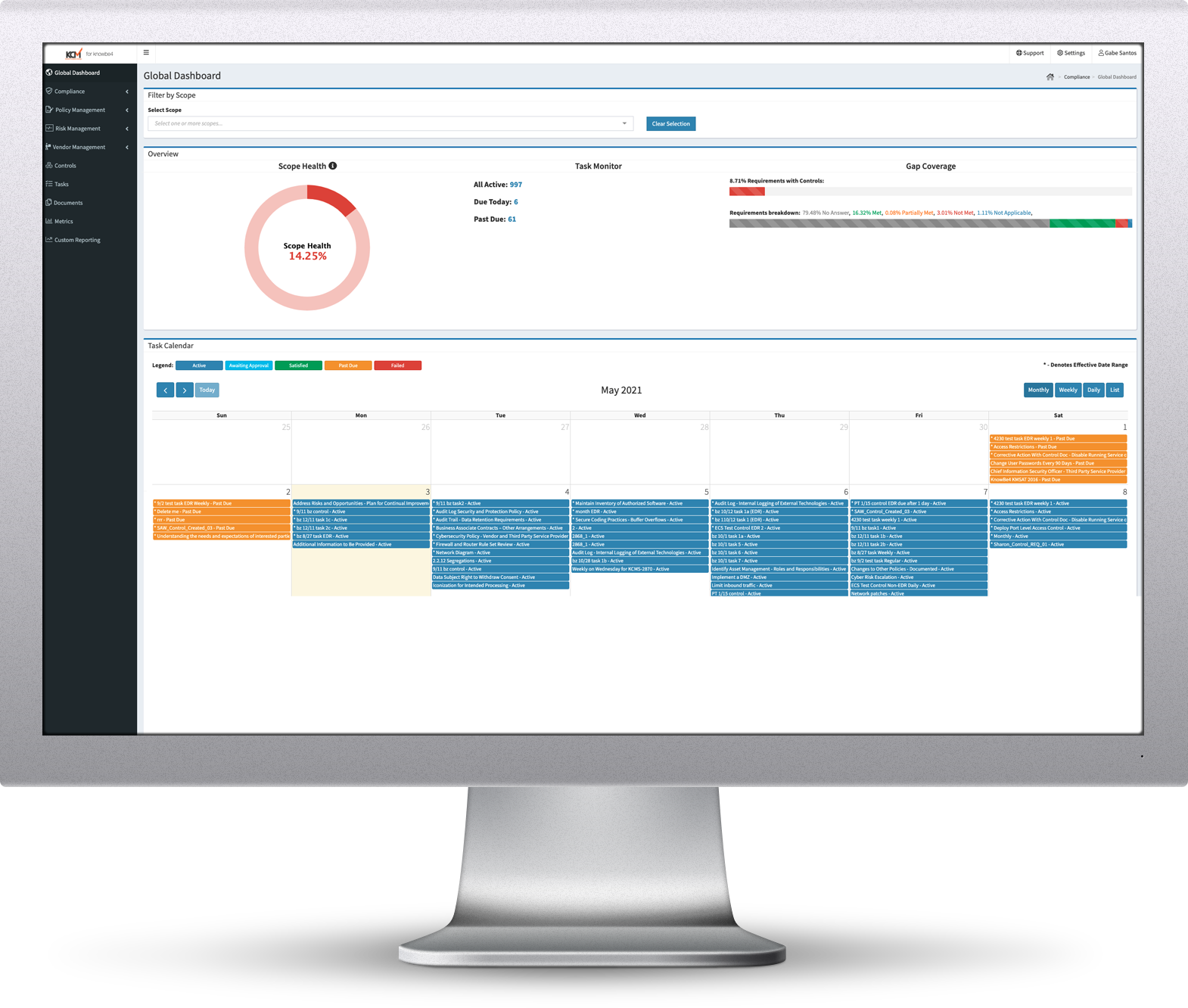 Get audits done in

half the time

at

half the cost.

See how affordable KCM GRC is

:
Key Features
The key features of KCM GRC allow you to eliminate the business disruption caused by the dreaded compliance curve, keep key employees working on key tasks as opposed to sitting in meetings, and enable visibility into the ongoing audit and compliance processes at all levels of the business.
Simplify Your Compliance and Audit Tasks
KCM simplifies the complexity of achieving compliance and eases the burden of remaining compliant year round. KCM makes it easy for you to clarify what needs to be done, who is going to do it, and when it's due - with a centralized location to put all your supporting documentation.
Centralize Your Policy Distribution
KCM allows you to upload a finalized policy, select a targeted list of users, and generate user reports to satisfy compliance requirements. You can set up policy campaigns to help manage policy distribution, reminders, and user acknowledgement.
Minimize Risk Assessment Busy Work
With an intuitive interface and wizards, getting insight into your organization's risk just became easier. Our risk management workflow is simple: identify the risk, respond to the risk and monitor the risk. Already working with spreadsheets? Import them into the risk register or manually create unique organizational risks.
Monitor Your Third-Party Vendor Risk
With a single pane of glass view, you get continuous visibility into your vendors' controls and evidence libraries and can keep track of their compliance requirements, services they provide, and what data they have access to in one centralized repository.
Enable Users to Get the Job Done
KCM enables you to assign user responsibility for controls and makes it easy to know which users are responsible for maintaining compliance related to each control.You can also assign an approving manager. The KCM GRC and Atlassian Jira integration helps you automate tasks and stay prepared for audits using management software your teams already use today.
Role-Based Access Control
KCM leverages RBAC for user administration. Your users only get access to the information needed based on different role types. Users can have multiple roles, depending on the implemented modules. There are even auditor roles to provide to outside consultants to review evidence and controls.
Documents
KCM's Documents section allows you to safely and securely store policies, procedures, and compliance/audit evidence for each of your controls and tasks. You can either upload files to be securely stored in the cloud, or provide a URL that links to an existing document or location of evidence files.
View Task Details
Our Task view makes it easy for your users to see all tasks for the controls they have access to. Finding information about tasks such as due dates, whether approval is required, and what other requirements or examples of evidence are needed is simple.
Automated Email Reminders for Task Completion
Concise reminder emails are automatically sent out to team members based on upcoming due dates on tasks they've been assigned. With automated email reminders, your users will always be notified ahead of time so that any gaps in compliance can be dealt with immediately.
Dashboards
The KCM Dashboards are simple to use and easy to understand. They allow you to quickly see what tasks have been completed, tasks that were not met, and tasks that are past due. The global dashboard shows all tasks across the entire organization allowing you to see at-a-glance your status towards compliance.
Controls Library
KCM's Controls Library contains a listing of all controls created within your account allowing you to see which scope the control relates to, it's frequency, the responsible individual and its ongoing compliance percentage. This is the central location for you as the administrator to view all of your controls and business processes.
Generate Custom Reports
KCM makes it easy to demonstrate overall progress and health of your compliance program to your executive team. Easily create and save reports that provide details on task status, user activities, and rate of completion across your different scopes and requirements. You can even export your reporting data to third-party BI tools.
---
See how you can get audits done in
half the time

at

half the cost,

request your

one on one demo

now

: