When it's time to complete a compliance audit, are you thinking,
"Ugh, is it that time again?"
And, if you have access to confidential protected health information, passing a compliance audit based on the Health Insurance Portability and Accountability Act (HIPAA) Security Rule is a business requirement.
If you're trying to wrap your head around the HIPAA Security Rule, you likely have a lot of questions. You want answers and need guidance on how to best get your organization's cybersecurity plan in place - fast.
Find out if your organization is ready for the HIPAA Security Rule section of a HIPAA compliance audit now!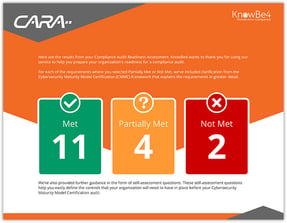 KnowBe4's Compliance Audit Readiness Assessment (CARA) is a complimentary web-based tool that helps you take the first step towards assessing your organization's readiness for meeting compliance.

CARA guides you through specific select requirements from the HIPAA Security Rule outlined by the U.S. Department of Health and Human Services (HHS). CARA asks you to rate your readiness for each requirement and then provides an analysis of your results to help you define the controls you need in place before your compliance audit.
Here's how CARA works:
You will receive a custom link to take your assessment

Rate your organization's readiness for each requirement as Met, Partially Met, or Not Met
Get an instant analysis and summary of potential gaps in your cybersecurity preparedness
Receive a custom report with control guidance suggestions to help you meet compliance

Results in a few minutes!




Assess your organization's HIPAA Security Rule readiness today!