Organizations like yours use regulatory guides and compliance frameworks as the foundation of their list of controls. You can easily have many hundreds to thousands of controls to create and manage.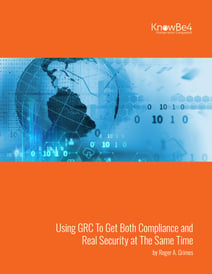 Unfortunately, many organizations unknowingly skew their efforts toward pure compliance activities and are not most efficiently accomplishing real risk reduction.
In this whitepaper, Roger A. Grimes, KnowBe4's Data-Driven Defense Evangelist, 30-year security veteran, and CPA-and-CISA-certified former auditor, discusses how compliance and security differ and how you can both be compliant and efficiently reduce your organization's most important risks.
In this whitepaper, you'll learn:
How to accurately determine your organization's risk factors

Why you should focus on the root causes of exploitation

Linking your risk-ranked mitigations to the threats they offset

Implementing the new risk rankings in your GRC solution
Luckily, with just a few modifications in your current process, you can use your risk management process to get both compliance and efficient real-world security.
Download the whitepaper now!